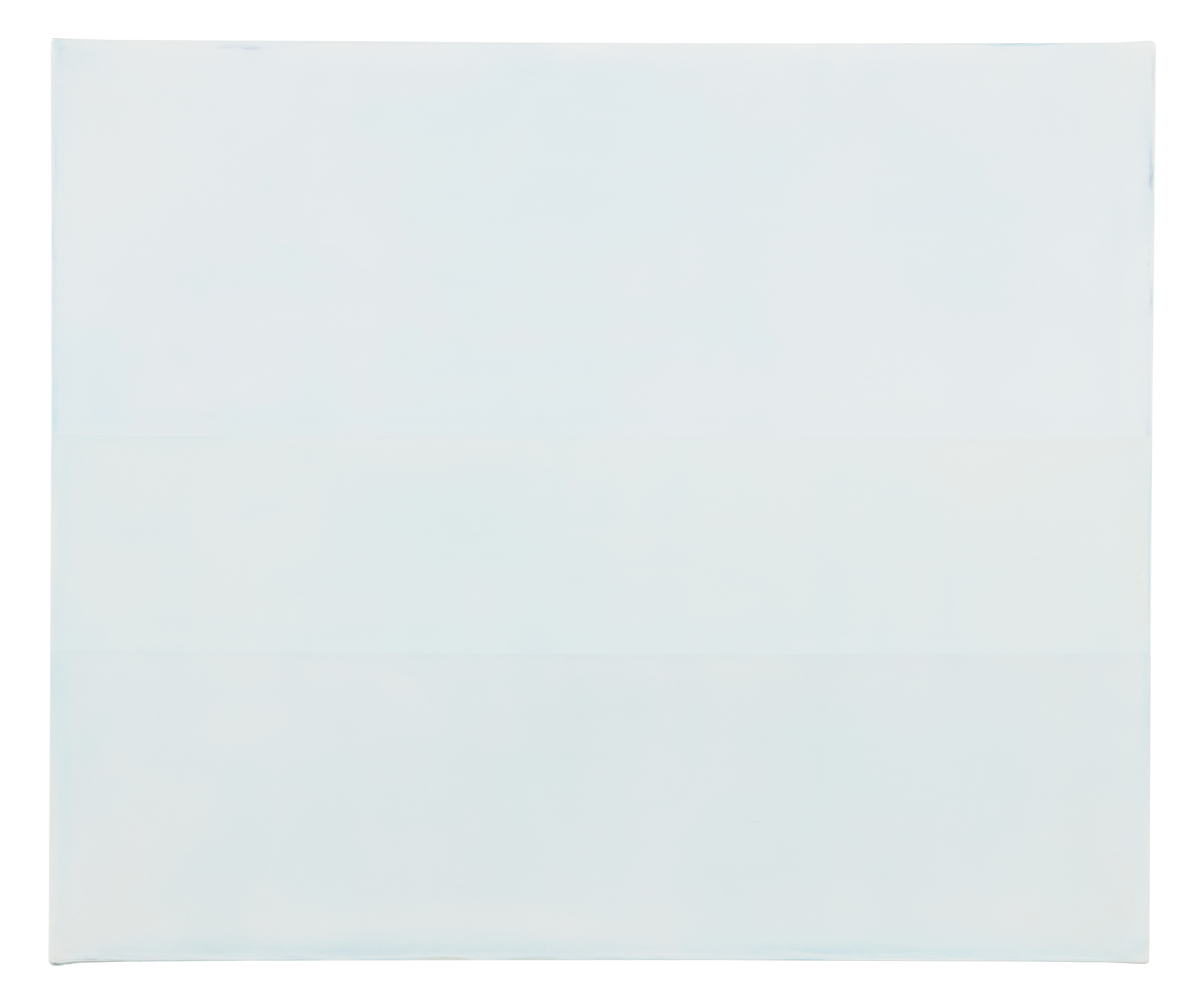 IN STILLNESS LIKE A MIRROR: KIM MIKYUNG
February 11 - April 1, 2023
Opening Reception: February 11, 5-7PM


Helen J Gallery is thrilled to present solo exhibition In Stillness Like a Mirror, featuring works by Kim Mikyung.

A fork in the road divides private epiphanies from universal insights. Kim Mikyung's paintings travel the former route, surrounded by her recollections of mountainous landscapes, bleached flour, wrapping cloths folded by her mother, overcast skies, and celadon glazes. Each is abridged into a dialect of geometric contours, strips, frames, and blocks of color, which Kim successively layers, sands, and reapplies, with rich earth tones gradually making way for progressively lighter hues. The results are diffuse, impalpable panes that hover somewhere between a surface and an expanse.

Kim's vaporous works find an anchor in the renowned poet Yoon Dong-ju, after whom she titled her 7-part polyptych Yoondongju's Sky. Eager for clarity during the turbulence of the early 1940s, Yoon wrote: "night after night let me polish my mirror with the palm of my hand, with the sole of my foot." Daoist proverbs compare our minds and hearts to water, which can attain clarity "in stillness like a mirror." Yoon and Kim likewise burnish obsessively, driven by their urges for introspection. Yet Kim's serene paintings forgo the need for literal reflections. Instead, her inward search leads to hazy shades of pale green, pallid off-whites, and translucent grays, nameless hues and distant outlines that reconnect her singular trajectory with the latter path of far-reaching vision.

Kim Mikyung (b 1964) received her MFA in Fine Art and AS in Graphic Design from Parsons School of Design, NY, and a BA in English Literature from Sungkyunkwan University, Seoul, Korea. Her solo and two-person exhibitions have been held at Francis Gallery, Bath; LeeAhn Gallery, Daegu; Dategallery, Busan; Datz Press, Seoul; Gallery 242, Seoul; Nook Gallery, Seoul; Alter Ego, Seoul; and Amos Eno, New York. Group exhibitions include Dohingart Gallery, Seoul; Nook gallery, Seoul; Datz Museum of Art, Gwanju; OCI Museum of Art, Seoul; Deutsche Bank, New York; The Temporary Museum of Painting, New York; and A.I.R Gallery, New York.

Helen J Gallery is a contemporary art gallery based in Los Angeles. Specializing in Asian art and design, the gallery features vibrant programming and exhibitions geared towards embracing Asian culture and the diaspora. Our program aims to promote artists from various geographic locations and diverse backgrounds, foster cross-continental dialogue, and broaden the understanding of Asian culture in the Los Angeles area and beyond.

For press inquiries, please contact cameron@helenjgallery.com.