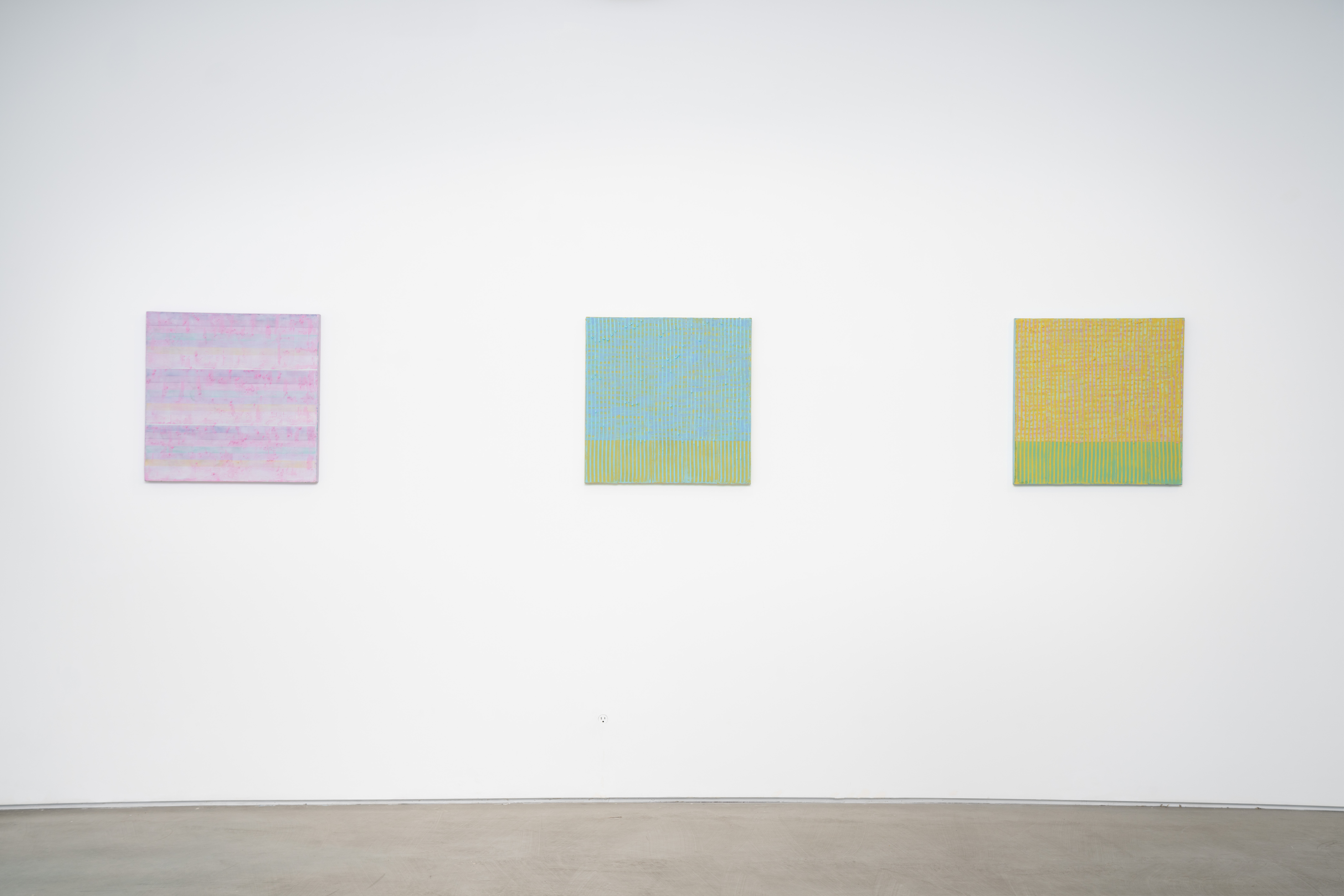 FIVE-COLORED LIGHT: KIM HYUNG-DAE
February 11 - April 1, 2023
Opening Reception: February 11, 5-7PM

Helen J Gallery is thrilled to present solo exhibition Five-Colored Light featuring works by Kim Hyung-dae.

Skies hold veiled foresights, and Kim Hyung-dae likewise directs his gaze skywards. The celebrated artist is grounded in the postwar Dansaekwha group, a movement most often defined by muted monochromes, tactile surfaces, and meditations on all-consuming natural forces. Yet Kim's approach presciently avoids inertia, trading somber earth tones for a prismatic palette, and weighted textures for airy, mesh-like surfaces. For all their contemporaneity, his developments stem from the vivid colors of traditional hanbok designs, painted temples, the tooth of woven ramie fiber, artisanal rake tools, and the incandescent glow of lamps from workshop interiors, making Kim's works departures as much as homecomings.

Kim's five decade-long 'Halo' (Hugwang) series shares its name both with the glowing disks that crown prophets and Buddhas, and rare atmospheric phenomena interpreted in folk customs as premonitions. These optical haloes and related apparitions are said to forecast rain, usher in new dynasties, and in the case of the five-colored halo, herald phases of individual wellbeing. For Kim, the halos' power comes from its openness to interpretation. As illuminated 'holes in the sky,' these rings of light frame the absence of essence, an ideal that forms the core of his methodology. At the beginning of his career in the 1960s, Kim observed the currents of the Han River that shape Seoul's contours, searching for the abstract "power of nothing." He now finds it in the upper half of the horizon, with its empty vaults and light rays, a space for previsions and hindsight.

Kim Hyung-dae (b 1936, Osan, South Korea) graduated Seoul National University College of Fine Arts' Department of Painting in 1961, and was a Professor of Painting in the Department of Western Paintings at the College of Formative Arts at Ehwa Women's University from 1977 – 2002. Kim has participated in numerous solo exhibitions, at galleries such as Baahng Gallery, NY; Gana Art, Seoul; Youneun Museum, Kwanju; Shinsegye Art Museum, Seoul; the Press Center Gallery, Seoul; Shiroda Gallery, Tokyo; Gallery Hyundai, Seoul; Andre Zalet Gallery, NY; Elga Wimmer Gallery, Ny, Aggie Arachi, Paris; Manif Hangaram, Seoul; Park Yeoung-deok; Gallery Mareucent, Netherlands; TOTAL Gallery Seoul, 1999 Gallery, Seoul, among others. He has been awarded prizes such as the Kukjeon prize 6 times between 1961-68, the Special Prize of the Chairman of the Supreme Council for National Rehabilitation in 1961, and the Grand Prize in the 2nd Space International Print Grand Prize Competition.

---

Helen J Gallery is a contemporary art gallery based in Los Angeles. Specializing in Asian art and design, the gallery features vibrant programming and exhibitions geared towards embracing Asian culture and the diaspora. Our program aims to promote artists from various geographic locations and diverse backgrounds, foster cross-continental dialogue, and broaden the understanding of Asian culture in the Los Angeles area and beyond.

For press inquiries, please contact cameron@helenjgallery.com.